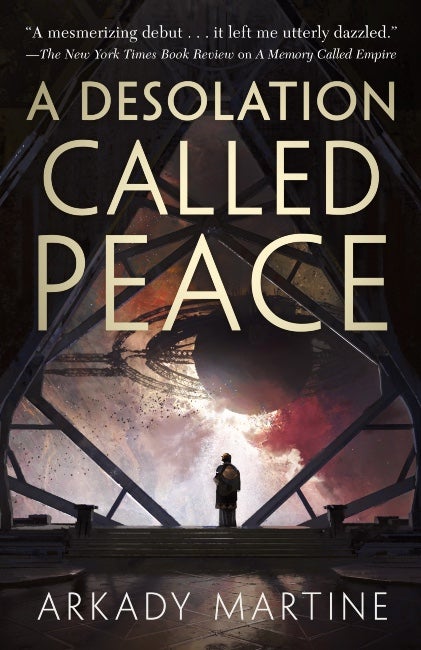 Arkady Martine has written another excellent book. A Desolation Called Peace branches out from the space covered in A Memory Called Empire, and while I know there's more that could be squeezed from the first book's subject matter I think this evolution serves the story (and the reader) well. And don't worry, Martine doesn't abandon anything she built before. Instead, she calls forward elements which had been waiting in the wings; it's more of a shift of focus than a dismissal of the old.
Specifically, where the first book asked "what does it mean to be human, or a person? Who draws the line, and where?" as a running background theme, this book puts that front and center. And I love that. Those questions are important at any time, but they're integral elements of a totalizing imperial worldview, and as such they're critical to this story and setting. Honestly, those questions are part of what I love about science fiction in general, and they're a big part of what I love about this series in particular.
Now, this book felt a little slower to me, more gradual or less heart-in-throat until nearer to the end. But it's no less fraught. In many ways, the excruciatingly complicated fusion of the personal and political feels more poignant here, even as the book and that fusion explore new themes. And yes, Martine is still good at digging into the ways hegemony wraps itself around everything, strangling like a ligature until conformity (or death) is achieved.
Now, about this book feeling slower… I wasn't sucked in head first the same way that I was for the first book, not until further into the book than last time. I've had a hard time telling how much of that comes from different reading circumstances, like changes in the time I set aside for reading, versus how much comes from differences between the two books. Either way, I'm pretty sure it took me much longer to read A Desolation Called Peace than it took me to read A Memory Called Empire.
But the magic that Martine conjures in the first book is still present. A Desolation Called Peace is still full of heartfelt complicatedness, and confusing wants and desires and struggles, and its *really good*. The conflicts brought to the surface here are wonderful. I like seeing them on the page. I haven't seen them in other books any time recently, and it feels really good to see Martine explore the ways in which hegemony and empire worm their fingers into everything, no matter how intimate or pedestrian.
Unlike with some other series (e.g. Becky Chambers' books), order matters here; you should absolutely read A Memory Called Empire before you read this one. If the first book wasn't to your liking, I'm afraid this one probably won't be either. But if you're not a light reader, and if you want good intrigue, ethical dilemmas, questions of humanity, interestingly alien aliens, and the baggage of empire… this is your deal.