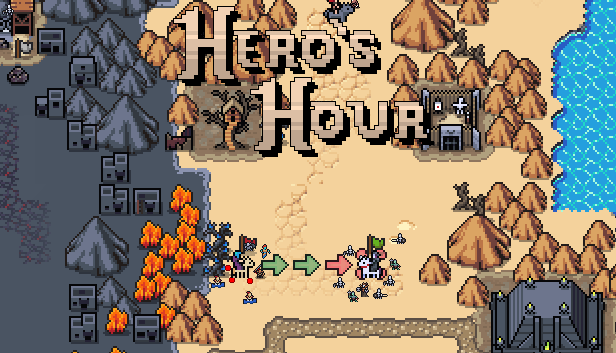 Hero's Hour is so clearly an homage to Heroes of Might and Magic (HoMM), especially HoMM3, that it's impossible for me to play it without comparing the two. That's both a strength and a weakness.
I love HoMM 3. I played so many hours of HoMM3 that it's been etched into my brain in a way that few other games have matched since. I also played a number of other HoMM games—the first two, as well as HoMM4 & 5—and all of that trained me pretty well in the genre those games pioneered (and which few games have matched before or since). Heck, New World Computing, the makers of the original HoMM games, may have actually trained their audience too well given the mixed reception to their changes to the game for HoMM 4.
What I'm trying to say here is that making a sequel to the Heroes of Might and Magic series, even making an homage to the series, isn't easy. A number of studios have struggled to do just that, most often creating new games that were mediocre imitators rather than improvements to the genre.
A little history, and maybe some perspective.
After New World Computing disbanded, Ubisoft continued publishing sequels from other developers, with a new developer for each subsequent game. Sometimes they even found a new developer for an expansion. I have no idea what that was like for the teams involved, but from an outside perspective that doesn't seem like a good sign.
I played a little bit of some of those sequels. They were… fine? None of the ones I played went beyond simply feeling okay, none of them delivered quite the same flavor that pulled me into HoMM 3 and kept me playing it for over a decade. Some of them shared similar points of failure with Hero's Hour.
This isn't a struggle unique to those trying to recapture the appeal of HoMM. It's happened with a number of different attempts to recreate the feeling of other 90s classics (like Master of Magic or Master of Orion). The best sequels and homages to those games that I've played all rely on finding some way to distinguish themselves, to be new and different and give themselves a way to excel, while still obviously following in the same vein as their predecessors. That seems like a universal rule for sequels, not only with sequels to these games.
But for whatever reason, most games I've seen that have tried to follow in HoMM 3's footsteps haven't managed to both recapture the feel and distinguish themselves well.
Sadly, I'm not sure that Hero's Hour does either. Yet.
First, a caveat: I'm writing about an early version of the game (v.1.8.2). It's available on itch.io, but isn't out on Steam or GOG yet. I don't know what will change with the wider release. Presumably some of the issues I mention here will be resolved.
Now. Why do I have to compare Hero's Hour to HoMM?
The game very obviously wants to be recognized by fans of HoMM. The hero attributes are the same, many mechanics are the same, a number of the factions (and the factions' units) are either the same or within spitting distance of each other. Tromping around the map and upgrading your town is eerily similar to HoMM3 (more on that later), right down to the names, functions, and visual designs of many map locations. It's all close enough—until you get to combat—that it's achingly familiar. Familiar enough that I wouldn't be surprised by an intellectual property lawsuit (though I don't know who'd win that).
Combat, and the way in which those familiar hero attributes are used in combat, is where things are totally different. Hero's Hour uses a real-time-with-pause auto-battle system, one that allows you to give commands to your various units, sling spells, etc. That's a considerable departure from the hex-grid turn-based strategy of HoMM. I actually like how this change distinguishes the game from the originals. But it's not especially clear to me how to learn the auto-battler's systems, and it's not clear I'll be able to master it in the same way I did HoMM3's battles. Like HoMM3, the underlying mechanics are a bit opaque; but 23 years have passed since HoMM3 came out, and I have higher expectations for system design and the presentation of information. Also, I want to feel a little less clumsy in the game's battles. Maybe that expectation of mine, the idea that I might have finer control of the battle, is the problem here: nothing about the game's battle aesthetics suggests much fine control would be available, as lots of little units hop around cartoonishly and bump into each other in bloody combat.
It's cute, really. I wish I felt like I understood it better.
It also is unstable. I expect this to be patched out, but the game has crashed several times for me near the start of a battle. More rarely, it's crashed at other points during the turn. This is a big problem. The game is informal and straightforward enough to keep me playing for a while, but it's not addictive enough to pull me back in after a crash (let alone several). The game does have a reliable autosave feature, so I've never lost too much progress in one go, but I hope the instability is fixed quickly.
Now, back to the map.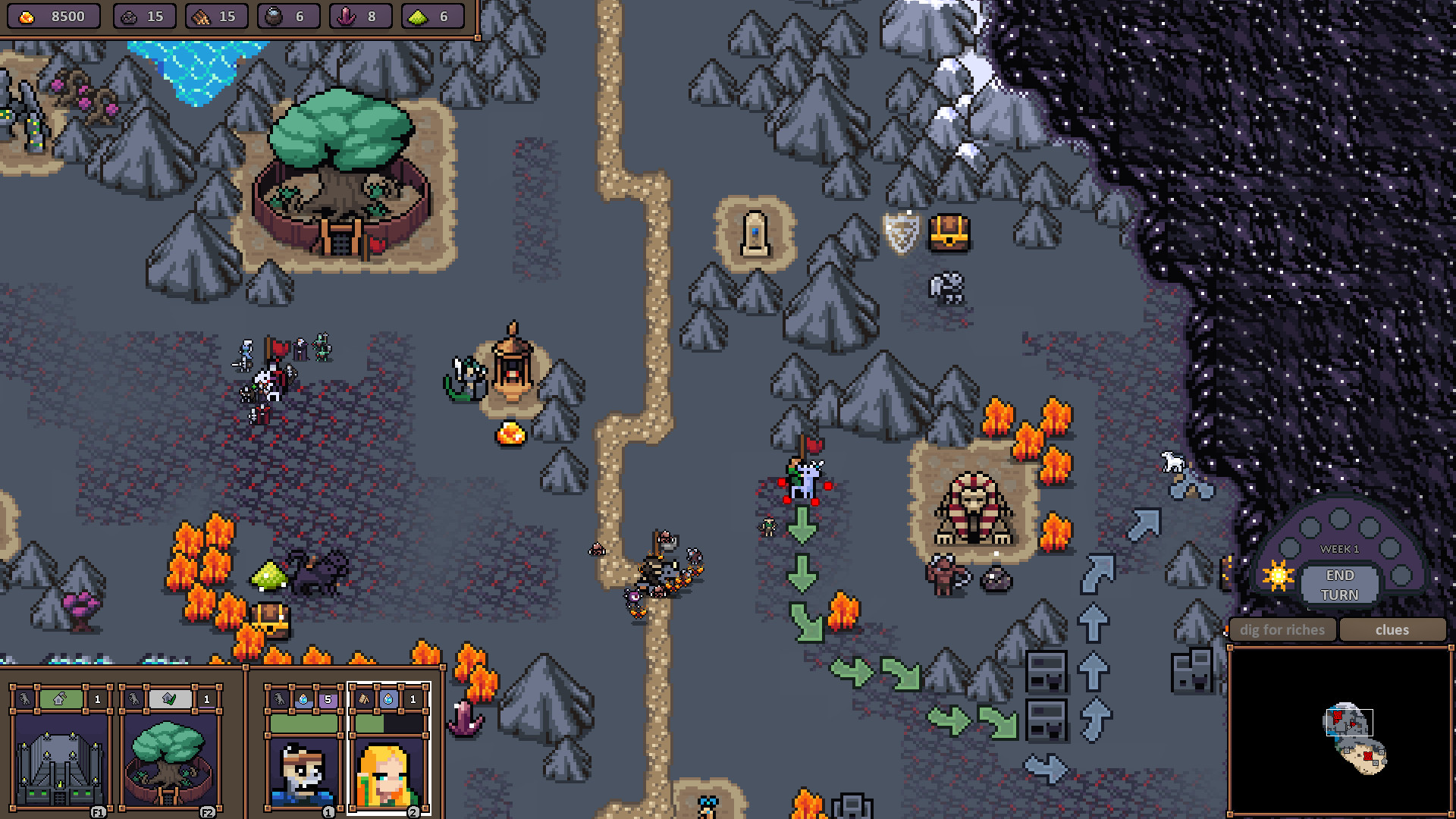 This critique in some ways feels unfair to me, but: the visual design for the map feels lackluster. It's bland. This is made worse by how obviously this game has been built in the image of the old HoMM games, and how it looks when I compare a screenshot of it with a screen from one of the old games. Hero's Hour wants to remind players of those games (and does!) but its visual design doesn't stand up to the visual design (or map design) of HoMM 2&3. HoMM2 had vibrant and inviting color, lots of texture, and map features that engaged the viewer. HoMM3 toned down the color palette very slightly—but it instead added more color variety, and paid even more attention to detail, making the various locations on the map pop. Both titles managed to make very full screens overflowing with tiny details that were still legible to the eye. Hero's Hour has obviously put time into designing the map locations that players will look for and visit, and has ensured that all the various interactable locations and items are legible as such, but by comparison the background (which takes up most of the screen, and which players spend almost all their time looking at) feels neglected.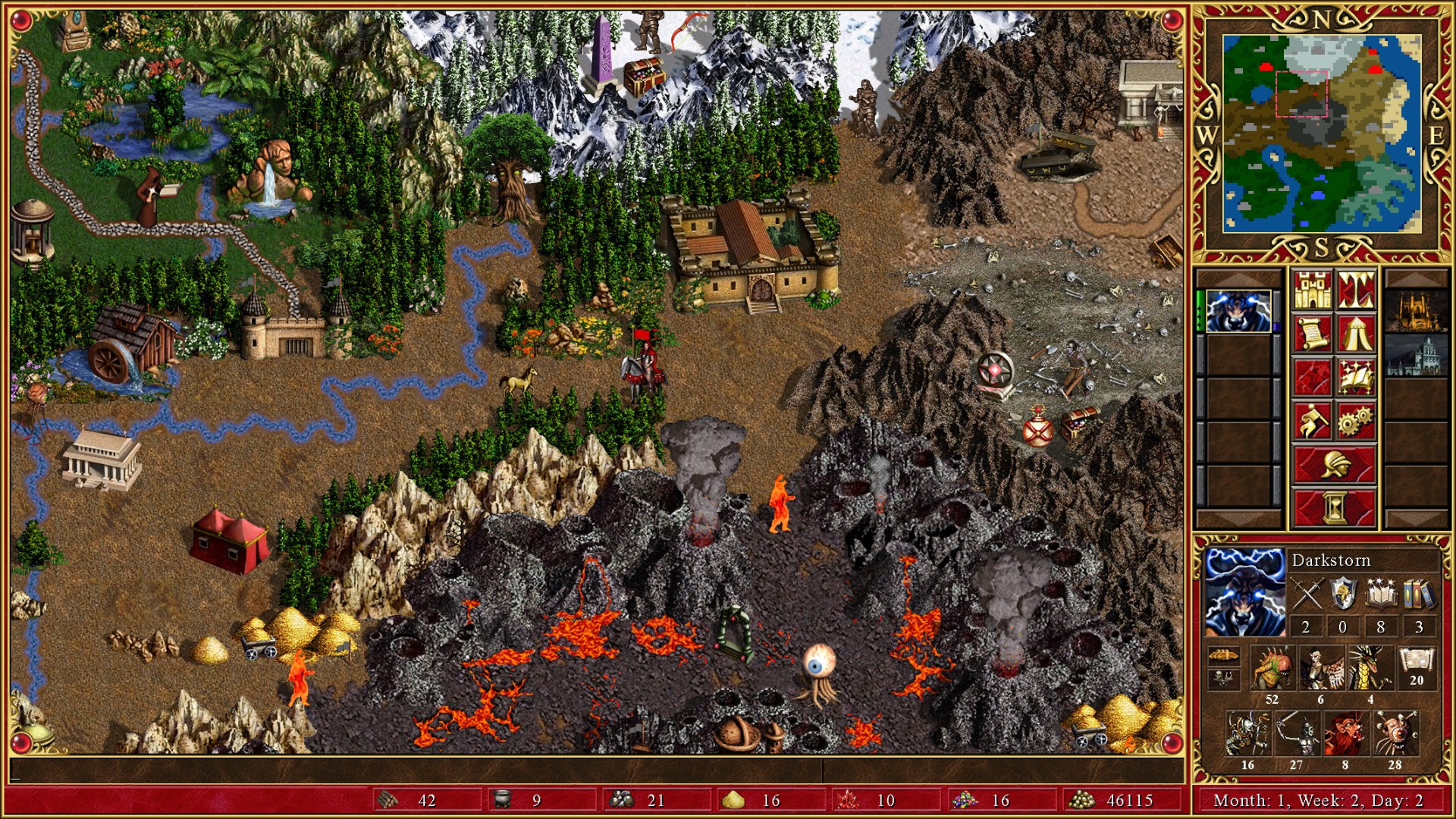 That critique feels unfair to me because I know there's a solo developer (presumably with limited support from contractors) behind this project. For comparison, even at its smallest I believe New World Computing had three people. Yet while I know it's a stretch to ask for more and better art—and better overall visual design—I do want more. I want varied texture for the backgrounds. I want the edges of the current texture swatches to be less blocky and more organic. I suspect that if this game's map backgrounds received a little more attention—got a little more texture, more saturated colors, more places for the eye to explore—that would go a long way. I don't expect this solo developer to outdo (or even match) HoMM 3's visuals, but I really want a little more visual appeal.
And it's clear that the dev knows how to do this! The Town screen is an excellent example. It's detailed, colorful, and has lots of changing elements that develop as you build new structures (all hallmarks of the HoMM games). It's obviously received plenty of attention. But this means that the dramatic difference in visual appeal between those Town screens and the map that I spend almost all my time looking at is even harder to ignore.
There's another side to the maps which feels odd: area layout, map design, and initial expansion. This feels especially odd given how closely the "riding around on the map gathering resources and visiting locations" experience matches the old HoMM experience. Maybe this would feel different to me if I had better mastery of the battles, but early expansion in Hero's Hour (with default settings) is harder and slower than I remember it being in HoMM3. The neutral armies guarding the ever-vital elements of the resource economy are a hair tougher, more wall than speed bump. And those guarded mines are spread further apart… indeed, it feels like the whole map is stretched just a bit wider than the old games. If this felt more deliberate, and if the game gave me more opportunities to *do* things while building up my army to conquer basic resource generators, I think it might feel different. As it is, I feel like I've spent more time wandering back and forth picking up minor collectibles and twiddling my thumbs than I did in the old games—which is saying something.
I suspect this comes down to random map generation.
Random map generation is neither easy nor simple. I'm not surprised that Hero's Hour's map generator is creating maps that feel less well-tuned than the custom made maps of HoMM3. That seems unavoidable, without a preposterously long development time. And playing Hero's Hour gave me newfound appreciation for how finely the old HoMM team had honed their map-making skills. But it also makes me wonder whether this game would be better off with hand-made maps, at least at first. So much of the game is spent roaming around them, it matters when they don't feel rewarding.
Unfortunately, the combination of visual design, less well-tuned maps, and slightly-clumsy battles leaves this game feeling a little more like an idle game and a little less like a deep and engaging strategy game. I think that's misleading, because I suspect that approaching it more like an idle game will make it very hard to win. What's more, I can see that there *are* deeper strategic options available, even if I haven't yet learned how to really shine in the game's battles so that I can reach them.
And I want to reach them. I love the genre, and I do still enjoy the game. I'll probably play more again today, and will no doubt check in again as it is updated. But as the game stands right now, it's not going to pull me in and feel rewarding for hours upon hours, unlike the games it's so obviously trying to imitate. I want Hero's Hour to do better, because I love those old games and I want more people to see how good they could be. And I want Hero's Hour to do better because it's already so close, it's almost there. Good luck, dev(s).