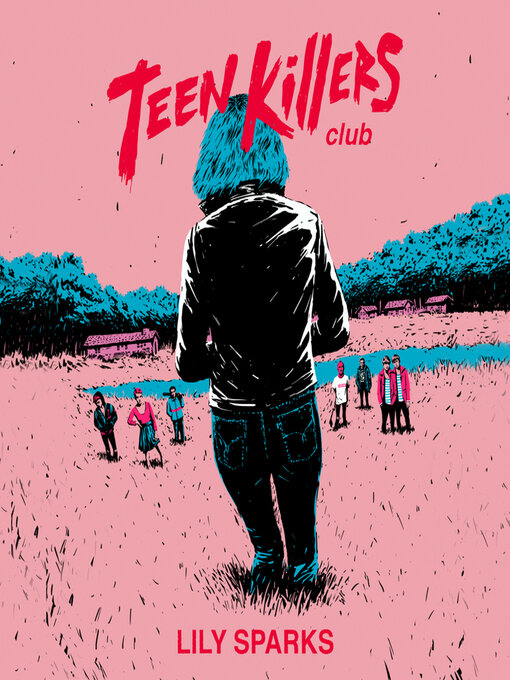 Sometimes books read like TV shows. This is one of those times. Hardly surprising, given that the author has a background writing for TV dramas. She does a good job of it here, too.
Lily Sparks' Teen Killers Club handled me roughly. I loved it. Riding its ups and downs, I felt emotionally whipsawed and had to set it aside a few times to take breathers and regain equilibrium (something our poor narrator never has a chance to do). By the time I finished, I felt like I'd just gotten off a roller coaster. I wandered around in a daze for an hour or so, still locked in admiration for the ways the story had pulled me back and forth time and again. Because for all that I'd been on a ride, it was an impressive ride. Sparks knew how to grab my heartstrings, and she did it fearlessly. The book had caught me and reeled me in, and pulled me along for the whole thing.
Well, not quite the whole thing: at the start I was partly distracted by needing to finish another book. But it was easy to slip back into it after finishing the other book. Then, of course, it was hard to put it down.
And yes, I'm on board for reading the sequel (which I suspected would exist, but wasn't certain about until writing this). I'm a little concerned about it, for reasons that are lightly spoiler-y and which I'll share in more detail below. Blandly put, I'm not sure which genre tropes the story-to-come will follow. There are a variety of options available, after all. But the story's overall tone could go in several directions, and I won't know how well it will fit my palate until I read the dang thing—which I will definitely do.
All of which is to say, if you like YA teen drama and serial killers and murder mysteries, this is a great book for you. Be ready for a heck of an emotional ride.
Now.
I can't go into detail about this without implied spoilers for the book. But this series of observations are eating my brain, so here goes.
*IMPLICIT SPOILERS*
This varies by subgenre, but dramas don't like to kill characters or let them stay dead. This is especially true of TV dramas, which often suffer from what I'll call a dramatic conservation of characters.
I say suffer, but in moderation this conservation is a positive thing. Because dramas build up value in their characters, investing them with growth, backgrounds, and relationships that make them richer and more interesting, these dramas are loathe to sacrifice their developed main characters or let them die—even when that death would make sense. This dramatic conservation of characters feeds into the "main character glow" or "plot protection" that shields developed characters from death. But this conservation also provides the audience with reliable narrative focal points, and both encourages and rewards the audience's emotional investment.
Some stories are more prone to this than others, but I think it's especially prevalent in character dramas that specialize in arranging (and rearranging) their characters along various social faults of contention. Characters twist or are twisted into new disagreements, the situation is milked for all the drama it can hold, and then some new development arises that prompts another realignment. The longer a story runs, the more realignments happen, and the more strange situations people end up in as the writers try to deliver new and exciting stakes. This is the process that leads to jumping the shark. It's also the process that results in somebody being caught in a terrible accident or dangerous what-have-you and then miraculously surviving (possibly with some character-altering development, like amnesia).
Usually, dramatic conservation of characters is maintained. Usually the characters don't actually die, or if they do they aren't actually gone for all that long. That's part of the reason that so few character deaths are treated seriously in these stories… or at least, why so few are treated seriously amongst these stories' audiences. The genre-savvy know from past experience that characters don't usually die or stay dead.
This, sadly, only makes it harder to actually up the stakes in these genres.
It doesn't help that these stories sometimes try to up the stakes by killing off people the audience has little attachment to. Instead of demonstrating that the situation is dangerous, this only reinforces the relative safety of the main characters. Scalzi's Redshirts is all about this trope as it exists in Star Trek. Other stories try to demonstrate how dangerous and gritty they are by killing off characters seemingly at random—sometimes this works, and sometimes it just feels like the author is trying to be edgy.
I think character death in these stories usually works best when it's given space and weight, or at least makes an impact on other characters (I've written a bunch of posts about this). There are a handful of exceptions.
But the thing that's eating at me, the thing I'm concerned is going to happen in the sequel, is that Sparks won't let characters die when they really ought to… or will kill more characters just to show that she can. She's set herself up for a tricky path going forward, and I suspect *EXPLICIT SPOILERS* based on the end of the book that she won't let characters stay dead when that would actually fit her story well. But I don't know! Maybe she's just lulling me into a false sense of security. As I said above, I've got to read the sequel to find out. *END SPOILERS*
Still on board for YA drama about teen serial killers, with some murder mystery on the side?
Get thee to the library (or bookstore).